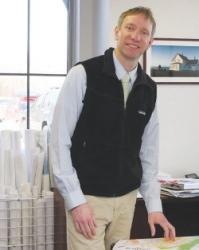 Gorrill Palmer is pleased to welcome Dan Bacon to our team as Planning Project Manager. Dan has more than fifteen years of planning, transportation and development experience and comes to us most recently as the Planning Director of Scarborough, Maine where he served as an important member of the Town's leadership team for ten years. As the Director, he oversaw land use and transportation planning, engineering, development review, zoning administration and code enforcement, and related services.  He was active in implementing the Town's Comprehensive Plan and modernizing the Town's approach to growth and development.
The addition of Dan to our Team will allow us to enhance and expand our services including:
Land Use Planning & Analysis
Zoning & Code Assistance
Master Planning
Transportation Planning
Multi-Modal Transportation Design
Development & Permitting Assistance
Fiscal Analysis & Impact Fee Services
Adaptation & Resiliency Planning
Natural Resource Planning
Community Outreach & Public Involvement
Community Development  & Revitalization Initiatives
Grant Application Preparation
Public/Private Development Planning
Mapping & GIS Services
The addition of Dan to our team greatly increases our capacity to serve our clients and expand our highly qualified team of professionals.  We are excited to welcome Dan to our group.  To read more about Dan and his former position, click here.